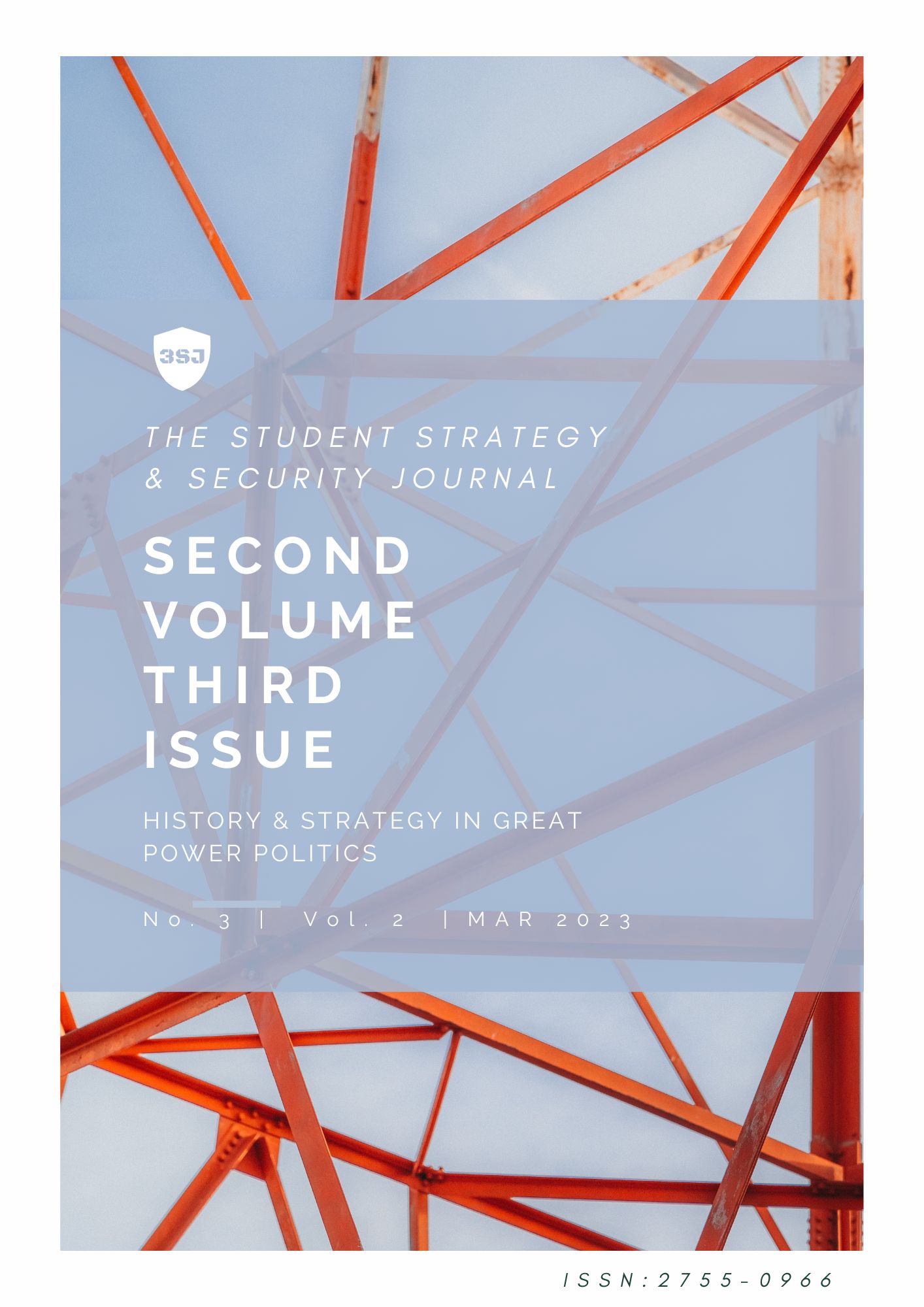 March 2023
Second Volume
Third Issue
This issue's twelve articles are grouped into four thematic sections. The first two papers focus on Türkiye's and the Gulf Cooperation Countries' efforts to reshape the modern Middle East by overcoming colonial legacies. The following three articles address various methods deployed by nationalising states such as the Islamic Republic of Iran, the Republic of the Union of Myanmar and Ukraine to manage their national minorities. The next three contributions unpack the Russo-Ukrainian conflict by examining the continuities in the intelligence services of the USSR and the Russian Federation; analysing the balance of apparent and effective military power between Russia and Ukraine; and dissecting Russian elites' interventions in Ukrainian foreign and domestic politics, all grounded in an innovative theory of ontological security. The final four articles focus on US military strategies in the planning and pursuit of war across three centuries – from a counter-factual narrative of Confederate strategy during the Civil War, to US and Soviet targeting of their respective population centres with their conventional and nuclear arsenals during the Cold War, and finally to complementary realist and idealist perspectives on the causes and outcome of the 2003 US military intervention in Iraq.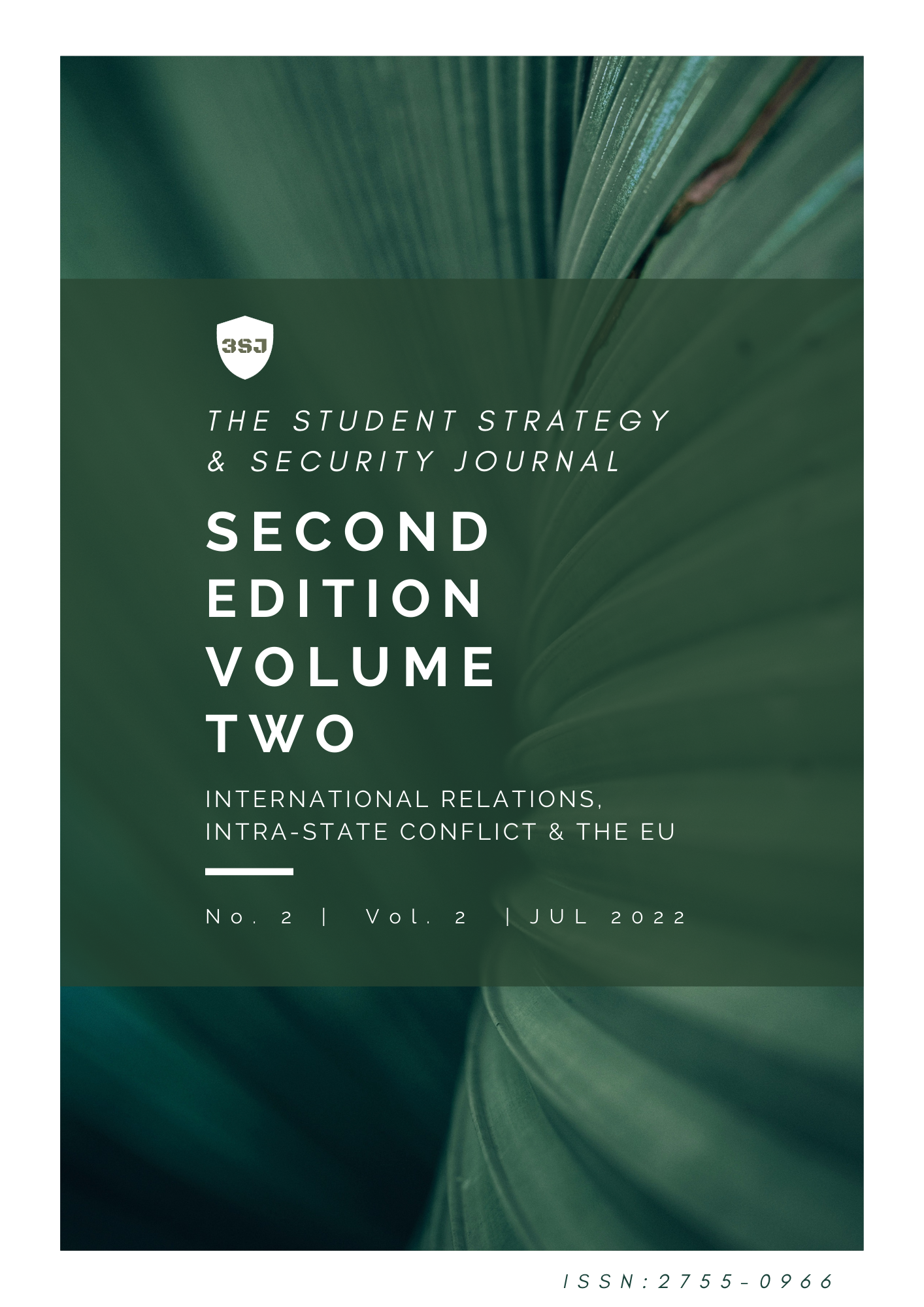 July 2022
Second Edition Volume Two
This issue explores non state actors, intra-state conflict and the EU, paying particular attention to the changing paradigms of IR. The issue begins by challenging existing theories of international relations by broadening them to maritime security and public opinion. With a specific focus on non-state actors, our contributors then investigate intra-state conflict, from Colombia to Syria. Moving from conflict to challenge, our contributors review the EU's internal and external challenges in a European security climate that is getting all the more precarious. In our concluding section, 3SJ returns to its core issues of strategy and security by examining the role of women in the extreme right and applying novel methodologies to the Russia-Ukrainian conflict.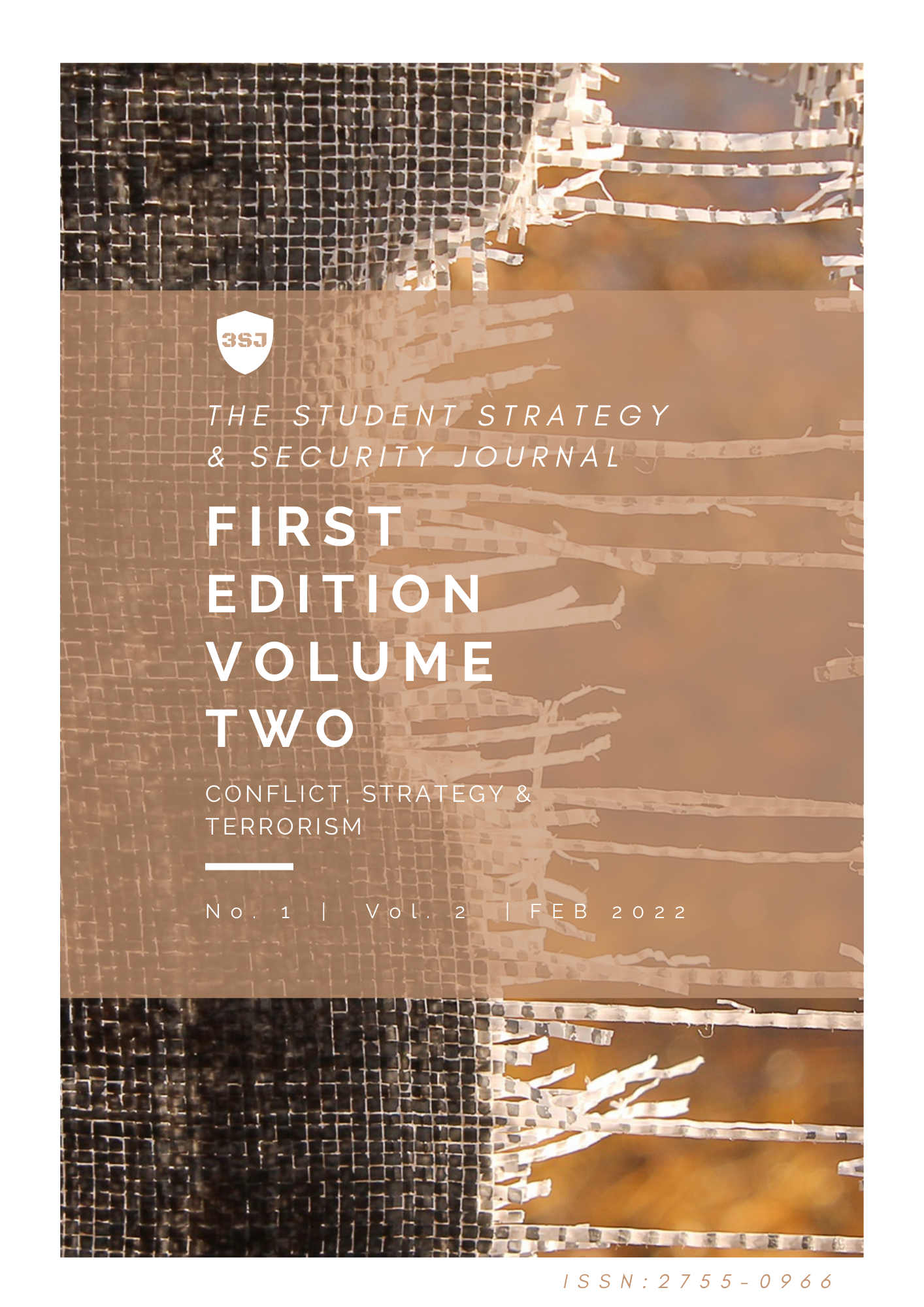 February 2022
First Edition Volume Two
This issue explores international relations theory, strategy and terrorism, paying special attention to the ever-changing dynamics of past and current conflicts. Beginning with the theoretical architecture of IR, the issue moves on to detangle narratives of socio-political conflicts and analyse the fate of deliberative consociationalism in Northern Ireland. With a specific focus on the nature of conflicts, our contributors investigate frozen conflicts in the post-Soviet region, with a particular emphasis on South Caucasus and Moldova. In our concluding section, 3SJ returns to its core issues of strategy and security by reviewing US defense policy and 'old' and 'new' terrorism.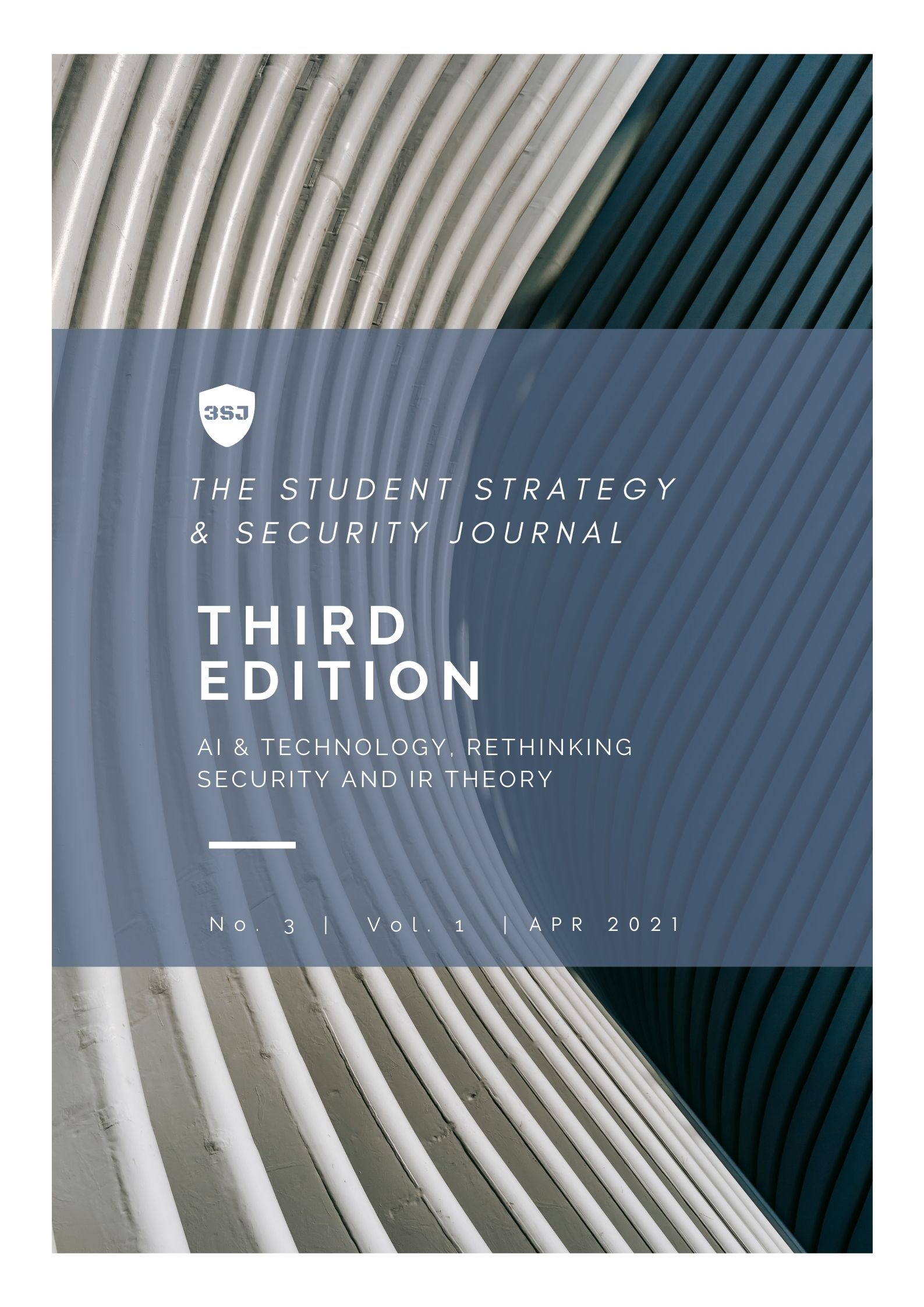 This third edition explored security, technology, philosophy and history with special focus on critical approaches, unconventional analyses and marginalised voices.
From the court rooms of Hungary to the computer of a drone operator, this edition unpacks issues of acute relevance to strategy and security. It engages with the role of technology in intelligence practices, dissects principles of nationality and strategy, explores humanised and gendered approaches to security, applies analyses of ethics and philosophy and interrogates traditional ontological theories of IR.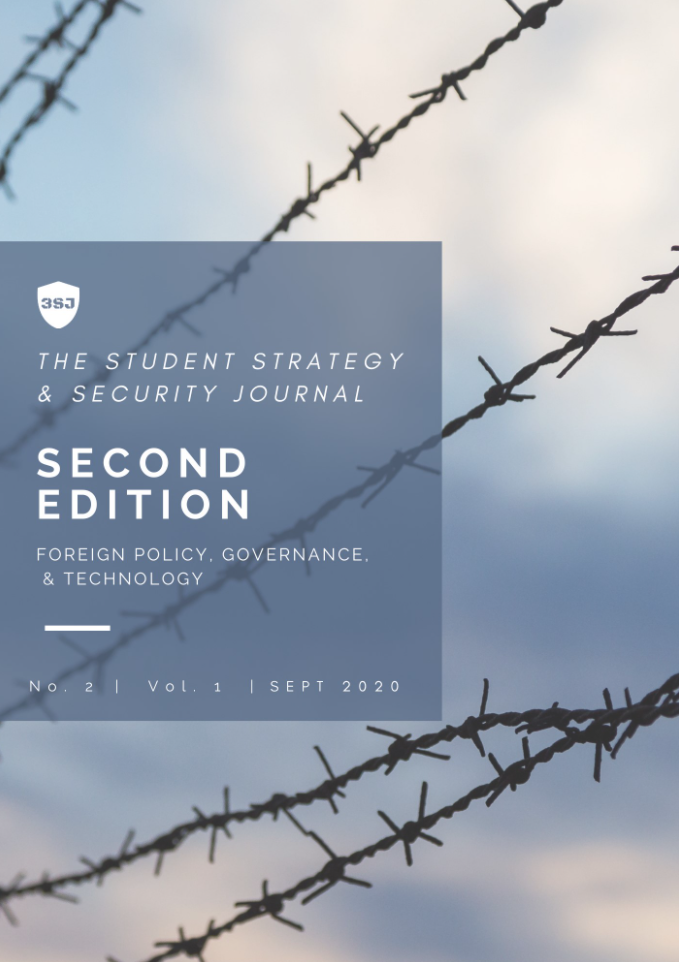 september 2020
Second Edition
This Second Edition explores security, strategy, and international relations, with special attention to under-emphasised voices, unusual perspectives, and contested lenses. With topics ranging from rebel governance to the Napoleonic regime, 3SJ unpacks issues related to the North Caucasus, Aleppo, as well as refugee camps in Turkey. The journal engages with the US-China conundrum as well as asking greater interrogatives about the role of culture and technology in Strategy-making, adopting the perspective of the state, and acknowledging the role of non-state actors; looking at the objectivity of Six-Day War discourses, and discussing the online dimension of social movements and opinion manipulation.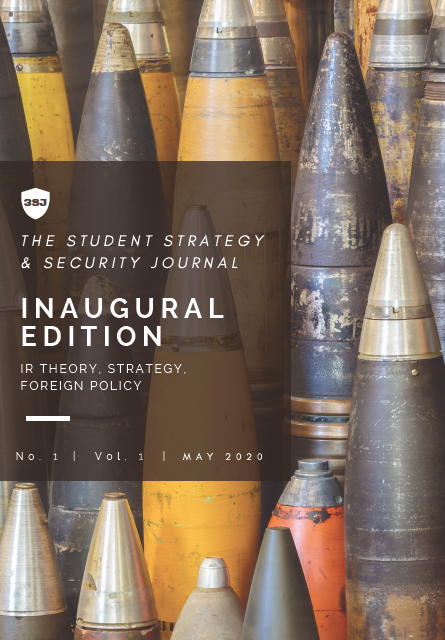 May 2020
Inaugural Edition
This Edition features wide-ranging themes: from IR Theory to Leadership, Foreign Policy, and Grand Strategy. You can learn about Trump's National Security Strategy, Eurocentrism in International Relations, or the potential of academia in informing the UN's counterterrorism strategy. If you're still not convinced, check out our Special Section for a piece of Samurai warfare in League of Legends!
Student Leadership
Academic excellence
Non-Discrimination
Startegy and Security